• Interior Design • Scandinavian Series • Sewn Quilt Patterns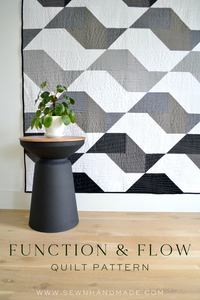 This is the final quilt pattern in our Sewn Scandinavian Series! Can you believe it?!    So, far in the series we have studied the concepts of thoughtful placement, harmony with nature and the close-knit relationships that are built with the design of Scandi homes. Today we are going to explore the concepts of Function & Flow - our patterns namesake. Let's jump in!       Scandinavian design at its most basic definition is functional, practical and minimalist. Architect Louis Sullivan is famous for his quote, "form ever follows function." This concept is practiced in Scandinavian homes...
---
• Scandinavian Series • Sewn Quilt Patterns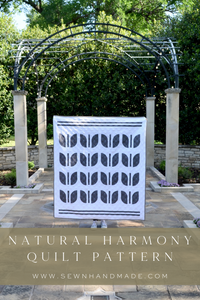 The quilt shown above is available as a quilt kit in my shop here!   Here we are with the release of the second pattern in the Sewn Scandinavian Quilt Pattern Series! This pattern series is all about Scandinavian design and each modern quilt pattern is inspired by a different principle of this unique design style.      The quilt above is available as a kit from Lamb & Loom Fabrics.   The Natural Harmony Quilt Pattern is inspired by nature. I would say the leading influence in Scandinavian design is nature. True Scandi design originates from the Nordic Countries....
---
• Scandinavian Series • Sewn Quilt Patterns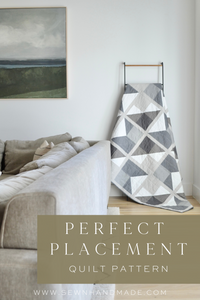 We are kicking off another quilt pattern series today with our first pattern - Perfect Placement Quilt. In this series I want to study some of the basic principles that guide Scandinavian Interior Design. I love Scandinavian design and I feel like it ties closely with my personal style so I wanted to explore it a little more with a quilt pattern series.  Scandinavian design is very thoughtful. Everything in the home either has a purpose or provides some kind of inspiration. They are intentional about their selections and how the furniture/accessories are used throughout each space. Everything has the perfect placement. ...