• Interior Design • Scandinavian Series • Sewn Quilt Patterns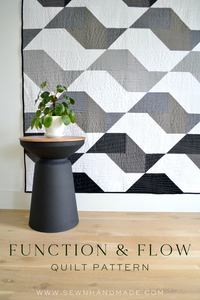 This is the final quilt pattern in our Sewn Scandinavian Series! Can you believe it?!    So, far in the series we have studied the concepts of thoughtful placement, harmony with nature and the close-knit relationships that are built with the design of Scandi homes. Today we are going to explore the concepts of Function & Flow - our patterns namesake. Let's jump in!       Scandinavian design at its most basic definition is functional, practical and minimalist. Architect Louis Sullivan is famous for his quote, "form ever follows function." This concept is practiced in Scandinavian homes...
---
• Interior Design • Meet Sewn • Sewn Quilt Patterns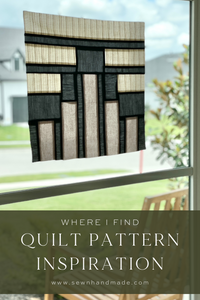 The number one question I get asked is: "Where do you get the inspiration for your modern quilt patterns?"    Pattern seen here is the Perfect Placement Quilt Pattern. There is one simple answer: beautiful interiors. There are so many design elements that inspire me!    Tile: Most of you know that the Italian Tiles Quilt Pattern is inspired by this ancient marble floor I took a photo of in a cathedral in Tuscany. Almost all the photos I took in Italy were of marble floor and tile patterns that could be quilt patterns!   Find the Italian Tiles Quilt...
---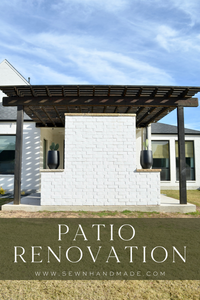 Ok this isn't actually an "interior" project at all, but I wanted to share a little about my design process for our recent patio extension. We have been dreaming up this patio extension since we moved into this house. This house is absolutely perfect for us and there are no changes to be made to the interior. However, we LOVE to be outside so we new we needed a more usable outdoor space.           First, let's take a look at where we started. Here's the before:   (Do you see how cramped that patio is?!)   Our Wish List: Built-in...
---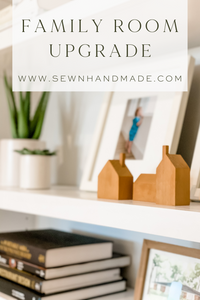 I hope you love getting to see some of these projects I have been working on. Today I am continuing with a big family room, dining room and entry upgrade. Enjoy!     This project was a delight! Mostly it was fun for me to daydream about the day we reach this milestone as well. This client was ready to upgrade her family space now that her kiddos are old enough to take care of nicer things. Personally we are still in the phase of only owning rugs that can be washed or are under $200 because there is something...
---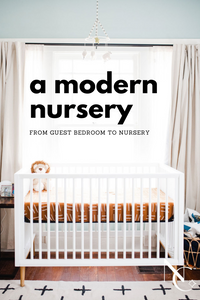 This sweet family was about to begin their journey into parenthood and wanted to create a nursery within their guest bedroom. They had just a few existing pieces of furniture they wanted to keep so this one was fun to decorate with a lot of new things!    A quick note before we start: All after photos you see below are taken by the one and only Nikki Caviness Photography.    Ok so starting with the before - here are a few objectives: Create a functional space that will fit their existing queen bed, but also a working nursery...