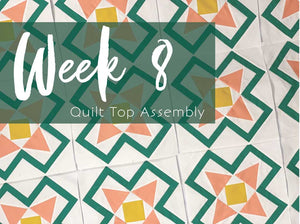 Well friends.. we have reached the end. There have been good times and more good times. I'm so grateful you all decided to sew along with me!    We are getting our quilt tops assembled this week! You all know where we are going here.. I start with the star blocks. Once they are attached, add the borders and sashing. Then, you' re done!    I use my walking foot here too. I really find it to always be helpful, honestly. It keeps all the layers together so that nothing slides around while you're piecing.        ...
---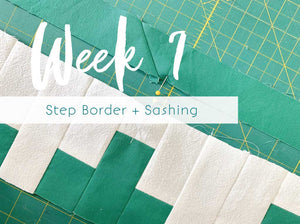 Can you believe there are only two more weeks left?!    This week we are getting out borders assembled. If you prepped your pieces when you were cutting - this will go super fast. Gather your long pieces you have sewn together and cut them according to the instructions under Step Border Assembly.    The most helpful tip here is to lay it all out just to really make sure you can see it all. It will help you keep everything organized and make sure you're attaching things the right way.   This is how I sew now. With the soft...
---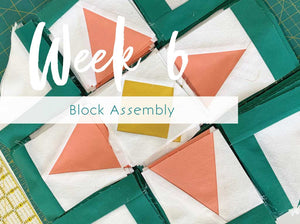 Week 6 is here and we almost have a quilt top!    The biggest tip I have for you this week is - use your straight pins. I don't know if that truly counts as a tip since you are probably already using them :)      As the pattern mentions, first lay out your pieces. You will first assemble your three columns so that your block looks like this:           Next is maybe the trickiest part of assembling the blocks. You will add your corner pieces. Here's how I do it:   First, I...
---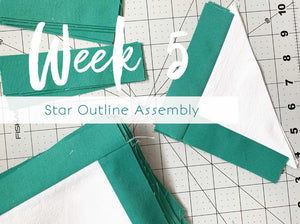 Time to get those Star Outlines put together! This is always the step where I start to see the quilt coming together. Again, the pattern is pretty self explanatory here so check it out for all the ins and out of assembling these.  The most helpful tip I have for you is to lay out all the corners and outline pieces so you know you have the right amount of pieces cut and ready to go.      This will also help you make sure you have the pieces in the right places. You'll notice there are...
---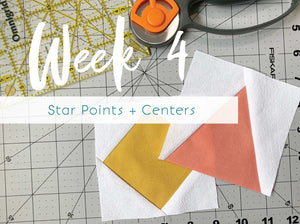 Ready to SEW something finally!? I am! Welcome to Week 4 of the Italian Tiles Sew Along.   We are starting with the Star Points. These are the trickiest bit of this quilt I think. So, you've got everything marked from last week. You've got your Star Point squares and all those background rectangles ready to go.     First Tip: I have found that my piecing is much more accurate when I use a walking foot. Especially for this step! When I use the walking foot and a single straight pin, my star points turn out perfectly....